An influential activist who met with members of the Obama Administration to promote net neutrality campaigned on behalf of a convicted Al Qaeda supporter, Breitbart Tech can reveal.
Evan Greer is the campaign director for Fight For The Future, which led grassroots efforts to promote net neutrality to the Obama Administration. Her writing has appeared in The Guardian, and she describes herself as a "touring queer riot-folksinger." For three years, she also campaigned on behalf of Tarek Mehanna, an open admirer of Osama Bin Laden who was convicted of aiding al-Qaeda in 2012.
Mehanna was convicted in 2012, after prosecutors proved that in 2004 he attempted to attend a training camp in Yemen, with the intention of going to Iraq to fight coalition forces. Upon returning to the US, Mehanna translated and disseminated materials described by prosecutors as al-Qaeda propaganda. Mehanna was open about his support for Osama bin Laden's call to expel foreign powers from Muslim countries.
Greer's LinkedIn profile lists her as the media strategy and outreach coordinator for the Tarek Mehanna Support Committee between 2009 and 2012. The page claims she "built support and organizing power in Muslim comunities," assisted in "media outreach" and "coached spokespeople from the Muslim community" as part of her role.
Her personal website still contains links to www.freetarek.com, a now-defunct page which acted as a hub for Mehanna's supporters. Greer's Twitter feed also reveals tweets in which she asserts Mehanna was "framed by the FBI" and "convicted by a racist court."
@LupeFiasco please RT #TarekMehanna Muslim political prisoner framed by FBI was convicted today by a racist court. www.freetarek.com

— Evan Greer (@evan_greer) December 21, 2011
@jilliancyork @scott_ainslie @chaoticfree @aprilaser If Tarek Mehanna were white & Christian he would not be in jail right now despite 1 am

— Evan Greer (@evan_greer) June 26, 2014
My thoughts are with Tarek #Mehanna and his family. Whatever sentence the courts impose is illegitimate but Tarek is free in mind and spirit

— Evan Greer (@evan_greer) April 12, 2012
Tarek in the courtroom "In your eyes, I am a terrorist…but history will repeat itself, and America will change." #Mehanna"

— Evan Greer (@evan_greer) April 12, 2012
Greer can also be seen expressing a number of other radical views on her Twitter feed, including the assertion that the US has no right to label people terrorists due to its atomic attacks on Japan. She also claimed that FBI counter-terrorist operations were designed to "terorise Muslim communities."
Today: 69th anniversary of U.S. dropping atomic bomb on Hiroshima. Anyone else think it's nuts that govt gets to call *anyone* a terrorist?

— Evan Greer (@evan_greer) August 6, 2014
@AJStream FBI uses informants to terrorize Muslim, Arab, & activist communities. "Good use of resources" if goal is maintain oppression.

— Evan Greer (@evan_greer) July 24, 2014
In 2012, several months after leaving the Mehanna campaign, Greer became the Campaign Director for Fight For The Future, the leading activist group promoting net neutrality.
Fight For The Future proved to be extremely influential in the battle for net neutrality and easily obtained access to members of the Obama Administration and the Federal Communications Commission.
Between November 6 – 7th, 2014, Greer and other activists met with Mignon Clyburn and Jessica Rosenworcel, two Obama-appointed commissioners at the FCC.
Three days later, President Obama released a strongly-worded statement backing many of Fight For The Future's positions on net neutrality, including the crucial demand for the FCC to reclassify broadband as a utility under Title II of the Communications Act. Obama personally authored a video message backing net neutrality.
A day after Obama's statement, Evan Greer and other Fight For The Future Activists sent out a congratulatory email to their supporters.
"Obama's statement has this movement's fingerprints all over it," Greer claimed. "If you watch the Obama statement closely, you'll see many moments where he incorporates memes and talking points we've built, together, as part of battleforthenet.com campaign, from the "buffering" joke at the beginning to the way he talks about this as cable companies vs. the public."
The full email is copied below.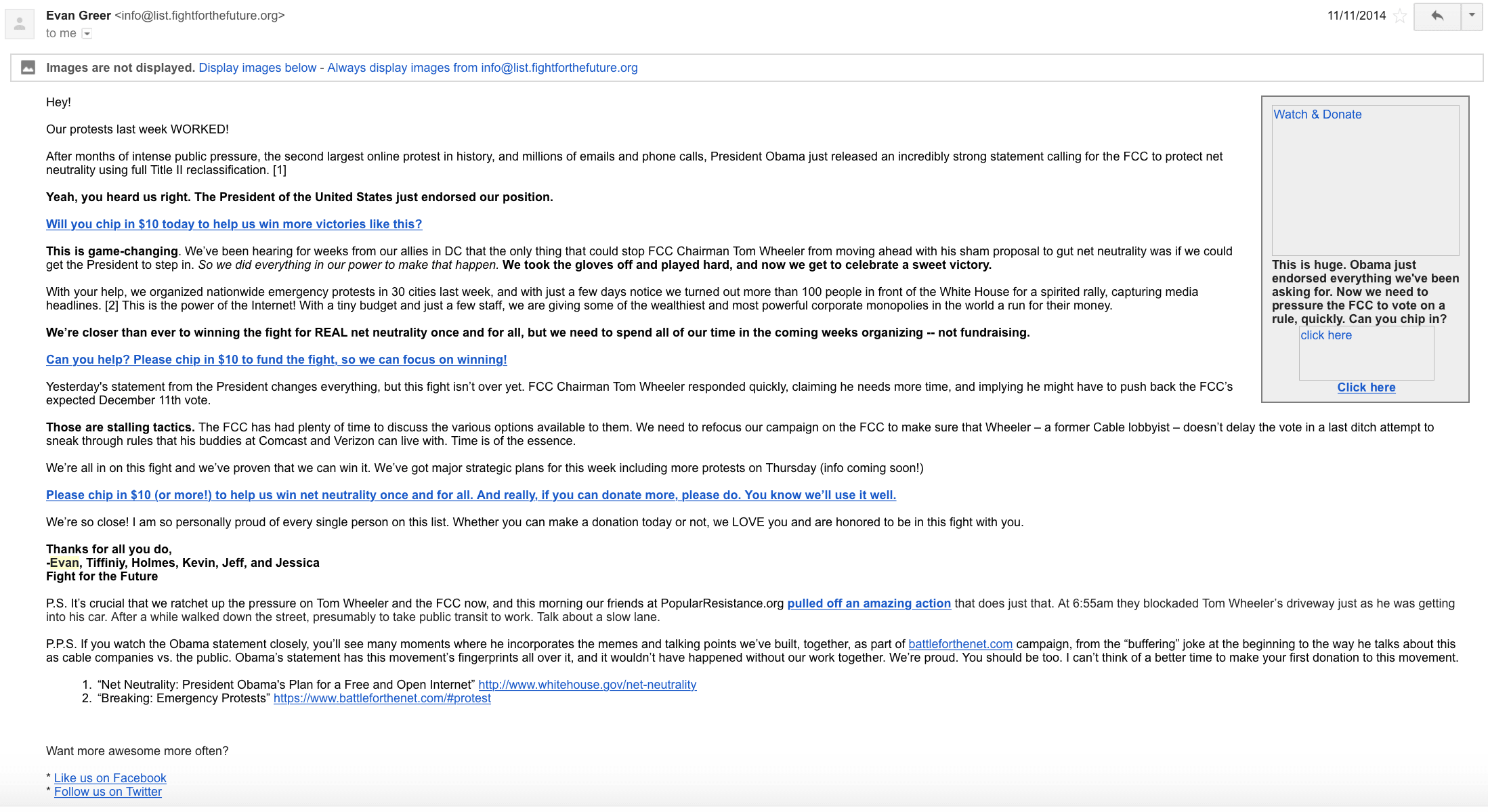 Greer, meanwhile, continues to openly cite her participation in the campaign to support Tarek Mehanna. Her profile on the staff page of Fight For The Future lists her as a founder of the Free Tarek Campaign.
According to her website, Greer's other occupations include "travel[ing] the world  singing songs of hope, justice, and liberation and connecting with communities who are resisting oppression."
We have reached out to Evan Greer and Commissioners Clyburn and Rosenworcel for comment.
Responding to a request for comment, Evan Greer stood by her decision to campaign on behalf of Mehanna. "This is a clear case of government overreach and a violation of the First Amendment. The FBI approached Tarek and pressured him to become an informant. When he refused, they retaliated by building a case against him based not on anything he had done or any actual plan to commit violence, but on his words"
Greer added that Mehanna had been convicted for "translating an old Islamic text" and that accepting the government's legal argument would criminalise "everyday activities by journalists, academic researchers, translators, and even ordinary web surfers."
Commenting on Mehanna's support for Osama Bin Laden, Greer contended that this was protected by the First Amendment, adding "defending freedom of speech requires standing up for everyone's rights, not just those who we agree with."
Holmes Wilson, co-founder of Fight For The Future, backed Greer's position. "Sometimes the FBI fails by ruining the lives of people who don't deserve it. Other times they just fail at their job. This appears to be a case of both."
Follow Allum Bokhari @LibertarianBlue on Twitter, and download Milo Alert! for Android to be kept up to date on his latest articles.