Canadian taxpayers are unwittingly funding a massive, 125-participant sex party for 'LGBTQ+' disabled participants in Toronto this week, Breitbart London can reveal.
The much-vaunted, "trail blazing", "world first" inclusive orgy has been the subject of celebration in left wing newspapers and blogs after the Toronto Sun broke the story last week. Explaining the reasoning behind the event, Britain's Independent newspaper reports "Canadian disability awareness advocates" Andrew Morrison-Gurza and Stella Parikarova say "they are tired of facing ignorant attitudes when it comes to sex and sexuality involving those with disabilities".
Today Breitbart London can reveal the group behind the event, Toronto-based theatre group / gender politics activist organisation Buddies in Bad Times (BIBT) is heavily subsidised by multiple levels of the Canadian government. Figures seen by Breitbart show BIBT received a remarkable $458,291 in government grants last year alone, with funding going back for decades.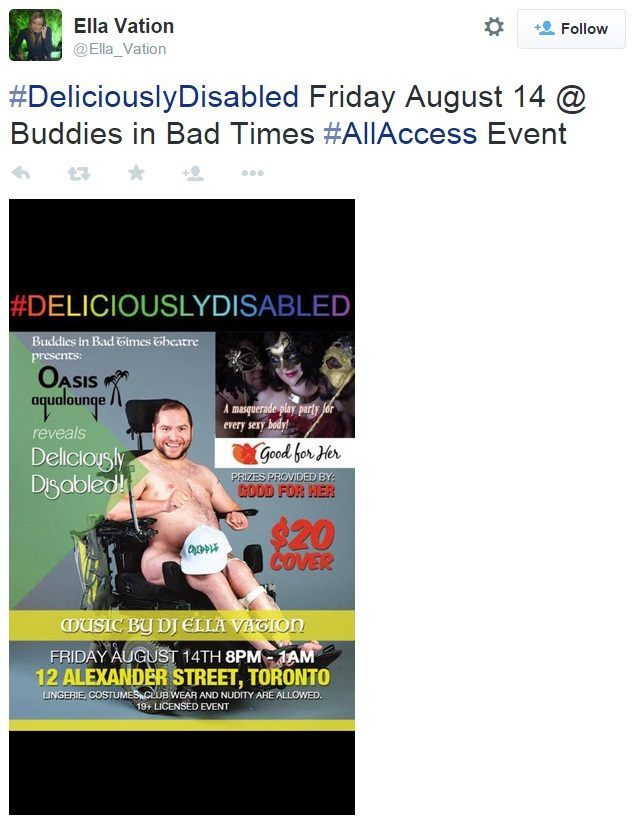 Canadian government disclosures show BIBT, who are hosting the event in conjunction with private Toronto "water themed" sex-club Oasis Aqualounge, received $50,000 from Canadian Heritage, the national equivalent of the United Kingdom's Arts Council, between 2011 and 2012. From Toronto City Hall, the group received money through 'arms length' funding body the Toronto Arts Council amounting to $519,400 between 2011 and 2014.
From the provincial Ontario Arts Council the group received $347,000 between 2013 and 2014, and from the Canadian Council for the Arts they took a $161,000 'multi year grant' in 2013. All in, the group has taken at least a million dollars from the taxpayer since 2011 – and this is before grants for 2015 are even disclosed.
Although taxpayers may be presently unaware of what their hard-earned money is funding today, there have been protests against BIBT receiving money from the government before. Never Going Back: A History of Queer Activism in Canada recalls activism group Concerned Citizens of Toronto campaigning against, and temporarily suspending funding for the group in 1993. The group was at the time attempting to stage a lesbian event called the 'Female Ejaculation Pyjama Party.
Remarking on the figures, Christine Van Geyn, the Ontario director of the Canadian Taxpayers Federation told Breitbart London: "The host organization received $458,291 in government grants last year, which pays for their staff, space, and operating budget. With highways falling down and local taxes going up, subsidizing any kind of orgy should not be a priority for public funds".
The Toronto Sun reports that tickets are $20 each for the 125-capacity event – significantly less than the club's more regular events where men can pay as much as $50 for entry (although single women pay nothing). 'Caretakers' for the disabled participants go for free – and the organisers are even providing an interpreter to facilitate dialogue for the deaf.
It is by no means unusual for groups, which ostensibly exist for the purpose of creating art, to use taxpayers money to promote their own unique views on sexuality. Breitbart London reported last year on a British artist who was commissioned with £100,000 of taxpayers money to create a bronze statue representing the modern family. The final work, cast in monumental form represented two women, one heavily pregnant, with their two sons. Turner-prize winning Gillian Wearing said the absence of fathers showed what "constitutes a family isn't fixed".
Should you be a Toronto resident, and you want to learn more about Oasis Aqualounge's "beautifully restored 19th century mansion", you can watch their own promotional video here:
https://www.youtube.com/watch?v=v3i8EC8W6mI
Follow Oliver Lane on Twitter:

Follow @Oliver_Lane

or e-mail to: olane@breitbart.com