MATAMOROS, Tamaulipas — Los líderes de dos de los carteles mas poderosos de Mexico se reunieron en esta ciudad fronteriza con el fin de reforzar alianzas, trazar nuevas rutas y territorios para el trafico de drogas y discutir la lucha con sus rivales.
Una testigo de la reunión confirmo de forma exclusiva a Breitbart Texas que la semana pasada, mientras el enfoque del mundo estaba en las elecciones estadounidenses, los líderes del Cartel del Golfo en Matamoros se reunieron con sus contrapartes del cartel de Los Zetas Vieja Escuela en un intento por concretar la alianza denominada "Carteles Unidos." Fuentes federales de inteligencia del gobierno Mexicano confirmaron de manera extraoficial a Breitbart Texas la información sobre la junta y la solidificación de la alianza entre los grupos criminales.
La reunión se llevo acabo en el centro de Matamoros comenzando a las 11 de la mañana y durando mas de 6 horas; los participantes se retiraron después de las 5 de la tarde en una forma discreta. El evento fue organizado Sergio "Sr. Cortez" Ortegón,  el cual es el actual líder del Cartel Del Golfo en Matamoros. Los invitados incluyeron los jefes de plaza del grupo Zetas Vieja Escuela de Oaxaca, Tabasco, Nuevo Leon, San Luis Potosí, Coahuila, Veracruz y Quintana Roo.
Como Breitbart Texas ha reportado anteriormente, el grupo Zetas Vieja Escuela ha estado en guerra con otro grupo Zeta denominado Cartel Del Noreste (CDN). La lucha ha detonado la violencia en Tamaulipas y se ha expandido a otros estados incluyendo Nuevo Leon y Coahuila.
El tema de principal de la junta fue la apertura las fronteras y terminar con tensiones entre los grupos presentes. El Cartel del Golfo en Matamoros abriría sus rutas de trasiego de drogas y el apoyo logístico del Cartel del Golfo en la frontera mientras que los Zetas Vieja Escuela no solo pagarían por los servicios sino que también proporcionarían entrenamiento, armamento y de ser necesario grupos de choque.
Miembros del Cartel Del Golfo en Reynosa, liderados por Julian "Comandante Toro" Loiza Salinas no fueron invitados a la reunión. Fuentes de inteligencia en ambos lados de la frontera confirmaron a Breitbart Texas que entre hay una fuerte animosidad entre Cortez y Toro. En el 2015, las fuerzas del CDG en Matamoros y las fuerzas del CDG en Reynosa chocaron en una sangrienta guerra.
Según el testigo de la junta, tanto los Zetas Vieja Escuela como el CDG en Matamoros han llevado acabo una "limpia" en la cual se han dedicado a atacar a secuestradores y asaltantes en un intento por regresar a los tiempos donde los carteles se dedicaban exclusivamente a el trafico de droga sin increpar a los ciudadanos. Breitbart Texas ha reportado en algunos casos que han incluido las ejecuciones de secuestradores y la tortura de asaltantes. El grupo CDN y el CDG en Reynosa han sido vinculados a la extorsión, el secuestro y otros crímenes como una forma de diversificar sus ingresos.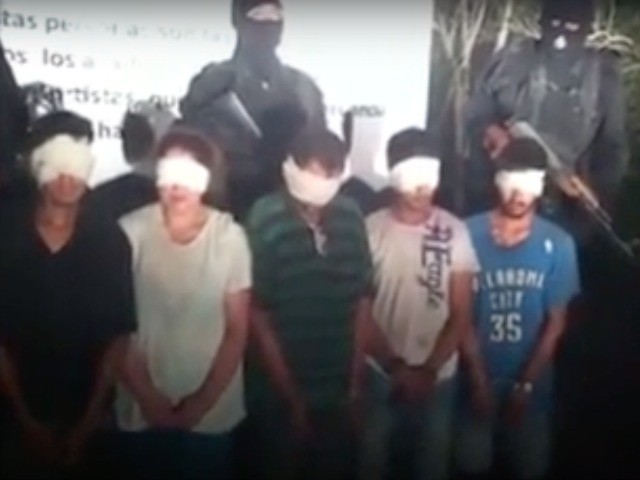 Editor's Note: Breitbart Texas traveled to the Mexican States of Tamaulipas, Coahuila and Nuevo León to recruit citizen journalists willing to risk their lives and expose the cartels silencing their communities.  The writers would face certain death at the hands of the various cartels that operate in those areas including the Gulf Cartel and Los Zetas if a pseudonym were not used. Breitbart Texas' Cartel Chronicles are published in both English and in their original Spanish. This article was written by "A.C. Del Angel" from Reynosa, Tamaulipas.